World Championship Figure Skating
World figure skating champions practice on temporary rink set up in four days.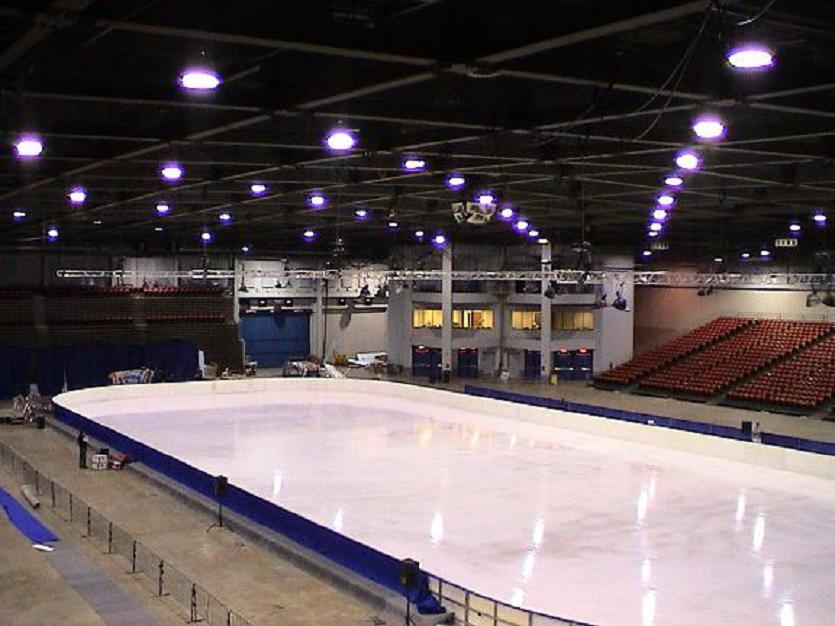 Project Facts
MCI Center
200-ft. x 85-ft ice rink floor
30 miles of tubing
1-1/2-inch thick ice
17,000 gallons of water
White color comes from biodegradable substance
OVERVIEW
America's Michelle Kwan claimed her fifth world title in front of a sell-out crowd; Shae-Lynn Bourne and Victor Kraatz of Canada ended their ice dance career with the gold medal; Evgeny Plushenko of Russia won the men's gold medal; Irina Lobacheva and Irina Averbukh, also of Russia, took first place in the Original Dance; China's Xue Shen and Hongbo Zhao retained their title as World Pair Champions with a magnificent performance, earning four perfect 6.0s.

These are the big news stories coming from the 2003 World Figure Skating Championship. However, there's also a behind the scene story that may not be as glamorous, but deserves to be told.

This year's competition marks the eleventh time a U.S. city was selected to host the event, but it was our Nation's Capital's first. The contest itself was held at the MCI Center, home to the Washington Capital's professional hockey team, while the contestants' practice facility was held at the Washington Convention Center.

With over 2.3 million square feet, the Washington Convention Center covers six city blocks on 17 acres and is the largest building in Washington, DC. This arena features 725,000 square feet of column-free prime exhibit space. It, however, has no ice rink.
"The ice was great. Very fast. Springy," stated Michelle Kwan, World Champion figure skater.
The Ice Skating Championships were held between March 25, and 30, 2003. While the staff at the MCI Center was well acquainted with the workings of a professional size ice rink and could convert a basketball floor to an ice rink to a concert venue within the course of a day, the staff at the Convention Center had no such experience. Furthermore, the Convention Center facility had to be ready a few days in advance of the competition in order to allow participants a forum in which to practice.
CHALLENGE
To accommodate both the practice needs of the skaters and the scheduling at the Convention Center that preceded and followed the skating event, a 200-ft. x 85-ft. ice rink needed to be ready and dismantled in just a few days. Setting up an ice rink is a process that normally takes 90 days.
"Disassembly of the rink also needed to be accomplished in a few days," according to Michael Clayton of Ice Rink Events, the company responsible for the practice rink.
SOLUTION
Whereas conventional, permanent ice rinks can work with either metal or plastic pipes that are embedded in concrete, the prefabricated, portable ice rink used in the World Championship practice rink relies on a series of plastic tubes in mat form, which
are configured to be unrolled and re-rolled as needed. These tube-mats were custom-made by CALMAC Manufacturing Corporation, of Fair Lawn, NJ.
"Ice Rink Events picked CALMAC's IceMat II because the system is quick to set up, and no on-site fabrication or welding is required" noted Mike Clayton.

Other differences between temporary ice rinks and their permanent counterparts include lack of experience with the ways in which in ambient temperatures and humidity levels vary and affect the quality of the surface. Managers of permanent installations, on the other hand, learn to predict and adjust to such variations caused by time of day, season, occupancy, use, etc. Furthermore, temporary ice rinks lack an opportunity for the ice to be "broken-in" over time.

Despite the dissimilarities and inherent difficulties, the artists who demand top performance of themselves, demanded no less of the ice on which they were skating.
SOLUTION
To create that ice for the practice rink at the World Figure Skating Championships within the allotted three and a half days, a cadre of highly experienced individuals worked long hours in what seemed to be a well rehearsed, choreographed operation.

The process began with the laying down of nearly 2,000 square yards of insulating foam boards which were then covered with a clear plastic sheet. This was followed by unrolling twenty-nine 7 ft.-wide mats made of poly-plastic tubes over the plastic sheeting. That's nearly 30 miles of tubing! These tubes were evenly spaced by preinstalled, rigid, plastic spacer strips, which were also used to uniformly suspend the tubes above the floor, thereby enhancing the chances for top-performing ice sheet.

"The mats' tubes are factory attached to main PVC headers, which speeds installation time," said Donald "Scooter" Mosher, Chief Supervising Manager for Ice Rink Events. Mr. Mosher led the entire technical installation. He is considered to be the leading installation expert of mat-type ice rinks, with hundreds of successful installations around the United States, including ice for the NHL.

After the mats were rolled out and connected to the refrigeration unit, they were filled with the coolant solution (propylene glycol, a non-hazardous anti-freeze). The main headers were interconnected using groove lock connectors. This technique allowed for quick assembly and leak-free flow of the glycol solution to and from the refrigeration unit or chiller, as it is called in the industry.

As the 2,500-gallon supply of coolant solution was circulated through the system, the tubes cooled and were sprayed with water -- first in a mist and then in a progressively larger flow as more of the water froze. Within hours, ice completely covered the mats and formed a sheet of ice, which was then covered with 30 tons of sand. More water was added and frozen, creating a substructure to replicate the solid foundation of concrete in permanent installations. A truck was driven over the frozen surface at this point to rid it of air pockets that may have developed in the process. An additional layer of water was applied which was then painted. This was subsequently covered with the top layer of ice upon which the skaters practiced.

"All of the conditions are perfect. A level surface, consistent ice temperatures, soft ice, low humidity... everything is going great," commented Dave Gagnon, USFSA Chief Ice Technician.
The rink's surface temperature was maintained at 26-degrees F, with the chiller operating at 16-degrees F. The chiller was a microprocessor controlled TRANE 300-ton air cooled, unit which was totally self-contained on one trailer stationed outside the arena. Aggreko Event Services's Rick Strole planned the logistics for this high-profile event. Humidity was kept under 40% in the Exhibit Hall, perfect for the highest quality ice conditions, using a 30,000cfm portable dehumidification system, efficiently controlled in this huge space by Aggreko's Baltimore-based staff members, Ben Harrision and Larry Worthington.

The United States Figure Skating Association (USFSA) chief ice technicians, Dave Gagnon and Greg Corbitt, monitored the ice temperatures and surface quality. Commenting on the installation process, Dave Gagnon said, "All of the conditions are perfect. A level surface, consistent ice temperatures, soft ice, low humidity... everything is going great."

The final ice preparation and all ice resurfacing was supervised by Dave Wescott, Director of Facility Programs for STAR, the non-profit ice rink management affiliate of USA Hockey and the United States Figure Skating Association (USFSA). Dave summed up his impression of the rink and Ice Rink Events by saying that the whole job was "simply amazing".

The temporary, practice rink's installation began at 8:00am on a Monday. By 5:00pm, the mats were all in place, the totally-modular, factory-assembled header manifolds were clamped together, and the system was being filled and charged with the coolant fluid. In fact, "not one piece of hardware, not one fastener, and not one hand tool was used in the day's installation," adds Mr. Clayton. "An 'round-the-clock' crew of only 10 professionals, 2 laborers, and 2 forklift drivers finished the job, including moving the 20-tons of sand into the building, painting the ice with Becker Arena Products' LuminIce, and flooding to create a 1-1/2-inch, highly-responsive, laser level, championship-quality ice arena."
RESULTS
Mike Hughes and Gray Reynolds of the Washington Figure Skating Club and co-chairs of the LOC's operations committee thanked the entire crew for their long hours and commitment to this world-stage event. Hughes congratulated Ice Rink Events' Clayton and Mosher and their entire staff, noting that the entire installation was "flawless". "I cannot think of anything that could have been done better," Gray Reynolds added. "Everything was perfect!"
Michael Clayton, Owner and General Manager of Ice Rink Events, offers CALMAC IceMat products exclusively to his customers. "We've been charged with the responsibility of building a championship-quality NHL-sized ice rink, to permanent rink standards-- with full dasher boards and a sand-base-- in three days total," he said. "The only product to do this job is the CALMAC's IceMat-II, with an added plus-- it makes the best ice, and the fastest ice. There is no equal," according to Mr. Clayton.

Michelle Kwan, crowned World Champion for the fifth time at this event, was quoted by competition officials as stating: "The ice was great. Very fast. Springy." Perfect ice for deep-edge jumps and spins.
SUMMARY

Indoor ice rink events are just some of the many uses for portable ice rinks. Temporary ice rinks can be installed indoors or outdoors and on any surface. The mats are used for events such as hockey, skating and curling rinks; playgrounds; skiing parks and pathways; speed skating ovals, luge, bobsled and toboggan runs; ski slopes, jumps and lift areas; stage shows; parking lots; convention centers and shopping malls, as well as multi-purpose sport stadiums and swimming pools.

Temporary or permanent, world-class ice skaters demand the very best ice surface upon which to compete and to practice, and Mike Clayton's Ice Rink Events, his trained crew and carefully chosen equipment ably met those demands.
< Back