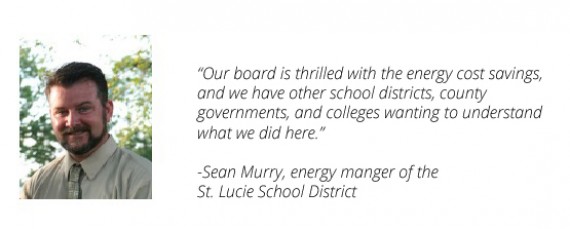 At CALMAC, we like to tout the benefits of thermal storage but our customers do it better. Below they share some great examples about how thermal storage is saving them money, simple to maintain, and how thermal storage has helped them achieve LEED certification.
"CALMAC ice tanks have a proven record of superior longevity and construction. I've used ice on over 20 recent designs, and have always been very happy."
Ryan B. Strandquest
Matern Engineering
"FGCU is one of the fastest growing universities in the nation, and the ice storage plant was designed with this in mind. The University can add chillers and energy storage tanks as needed to fit its cooling load needs. Prior to investing in energy storage, energy costs at the university were approximately $6-$7 per square foot. Current energy costs are much lower, among the lowest in the state. With the additional tanks FGCU has purchased, it will continue to save money on energy costs across the growing campus."
John Camden, PE, LEED AP
ATP Engineering South
"Sierra College has been a great client to work with throughout the project. This plant, as well as two others, was in need of replacement. After determining the chilled water load profiles and reviewing electric utility rates, modeling of the system showed off peak cooling was a great candidate to save even more energy. The installation has proven to have an economic benefit as well as environmental and health benefits for the students and staff on campus."
Steve Zagyi, P.E., Senior Project Manager
LP Consulting Engineers
"We reviewed other ice storage companies for this school, but ultimately chose to work with CALMAC for this project because of the lower ambient temperature and higher efficiency of the air-cooled chillers while making ice at night. I have used CALMAC energy storage tanks in multiple designs and have always been very happy. The tanks are manufactured very well, and give us the piece of mind for our clients that they are getting a superior product."
Ryan B. Strandquest, LEED AP and Vice President
Matern Professional Engineering, Inc
"Thermal energy storage was first implemented in 1992 in Sarasota County Schools. The benefits of this technology include lower operating costs, energy savings and FPL incentives, plus more reliable cooling and dehumidification throughout the buildings."
Bo Hetzel, Energy Management Specialist
Sarasota County School District
"There was a bit of hesitation,and understandably so, when we first revisited the idea of energy storage for our schools. However, the approach that Superintendent MaryEllen Elia and the current school board members took was quite forward-thinking. They recognized that with on-peak power being more expensive than off-peak power, we needed to invest in a smart grid technology to save money and be more sustainable for the environment. Modular, internal melt ice-on-coil systems have proven to be reliable and cost-effective in many other Florida school installations."
Robert Wegmann, General Manager of Maintenance
Hillsborough County Public Schools
"For this building, the state's focus was to make it energy efficient, while being fiscally responsible. Besides helping meet targets for modeling energy efficiencies that beat CA Title 24, we also wanted to create a net zero pavilion that could supply renewable energy to the rest of the building."
Mike Stanton, Interface Engineering
California Lottery
"The Calmac Ice storage tanks that EPCC has had installed in various campus have served us well. Not only do they supply colder water during the heat of the day (thereby increasing cooling capacity) but they have saved us thousands per year in reduced demand charges. They are relatively trouble free and easy to maintain. Definitely one of the better components we have ever installed."
Rick L. Lobato, Executive Director, Physical Plant
El Paso Community College
"We selected CALMAC because of its level of quality and the long-term savings projected for this project. When the need for an upgraded HVAC system surfaced, we looked at different solutions to fit our needs. The ability to shift our air conditioning load to the evening hours for these two buildings greatly reduces the peak demand charge from the utility company."
Brock Sissel, Deputy Base Civil Engineer
McConnell Air Force Base
"The ice energy storage is the central component of the cooling system that helps Fossil Ridge High School reduce energy costs and use 35% less total energy than buildings of the same size in the district. Part of an integrated and collaborative design, the energy storage helped the school win a 1st Place ASHRAE Technology Award, achieve LEED Silver certification and an energy star certification every year since the school was built in 2004. Last year the ENERGY STAR score was 96 out of a possible 100. Although it was designed to shift about half of the comfort cooling load during the peak day the ice energy storage is used to meet all of the cooling loads when cooling is required."
Stu Reeve
Poudre School District, Fossil Ridge H.S.