The next big thing is here now- a greener, smarter alternative to traditional cooling- engineered to be simple.
From the world's leading thermal storage company comes over 30 years of best practices. And a sole focus on thermal storage, along with continual improvement in manufacturing and application.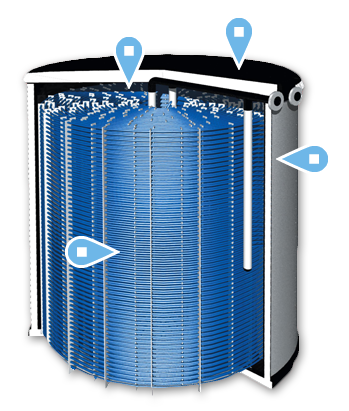 7 Top Advantages of CALMAC IceBank energy storage

1. Exceptional CALMAC customer service

You'll always get fast, customer support from CALMAC. Support includes energy storage system application support, utility rate analysis, ice tank selection, and more. Once your system is up and running, our support continues. We'll answer your operation and maintenance questions for the entire life of your system. Contact us.
2. Rock solid experience

CALMAC is research oriented, and we've developed over 250 products. Our research has led to important designs and products across different industries and applications. With over 60 years of innovation, we focus our experience and knowledge into making reliable, high-performance products with a long service life. Learn more about CALMAC.

3. Expertise and knowledge

CALMAC greatest asset is our people. Our people tend to stay on, for our values and wonderful work environment. Our upper management has over 100 man years of dedication and experience in the energy storage industry. Some of our factory workers are third generation. Every CALMAC customer reaps benefits from our deep experience and knowledge. Learn more about CALMAC.

4. CALMAC IceBank tanks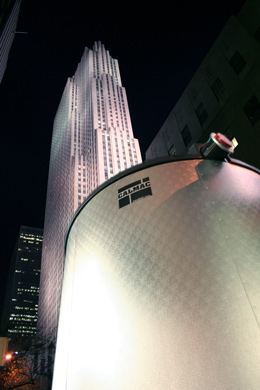 At the heart of the Ice Bank tank is the all welded counter-flow heat exchanger. The patented design provides even ice building on the tube surface while helping to manage expansion as the water freezes. IceBank tanks can freeze solid without sustaining damage.
The horizontal counter-flow design doesn't allow sediment to block passages. And allows some of the warmest ice making temperatures in the industry. Additionally, the heat exchanger tubes are translucent, for easy visual inspections, which makes commissioning and service easier. This CALMAC design also discharges very evenly, assuring predictable discharge of the entire amount of stored cooling. Learn more about IceBank.
5. Sustainable and reliable storage
CALMAC means bulletproof reliability. The entire wetted surface of the IceBank tank is made of non corroding materials for a reliable, trouble free life. All internal piping is thermally welded polyethylene. For sustainability, we've eliminated the use of ABS and PVC materials, gluing agents, and all internal mechanical fittings in the construction of IceBank tanks. During manufacturing, we eliminated the use of water. Our tanks are 99% reusable or recyclable. At CALMAC we walk the talk. Our manufacturing facility in New Jersey is LEED Gold certified. Learn how IceBank lowers your environmental impact.
6. Local customer support
With a local representative, you have a single source for design, installation, operation and maintenance of your cooling system components. That includes storage tanks, heat exchangers, chiller, controls, and more. Enjoy the convenience of working with one of our 200 local reps around the world. Contact us.
7. Superior engineering
CALMAC IceBank storage tanks are rigorously designed to be simple with amazing capabilities. The tank is made of a single seamless piece of polyethylene for containment and structure. Cataloged performance data gives designers all the data needed to design the perfect energy storage system. IceBank tanks are modular—so you can add more tanks over time and relocate them easily. Installation is simple. CALMAC provides as standard, a limited five year parts warranty on the internal workings and a 10 year limited parts warranty on the tank vessel. Learn more about IceBank.