Underwriters Laboratories
UL wanted thermal storage for the energy efficiency and operating flexibility it provided and asked Sebesta Blomberg & Bourassa to include thermal energy storage.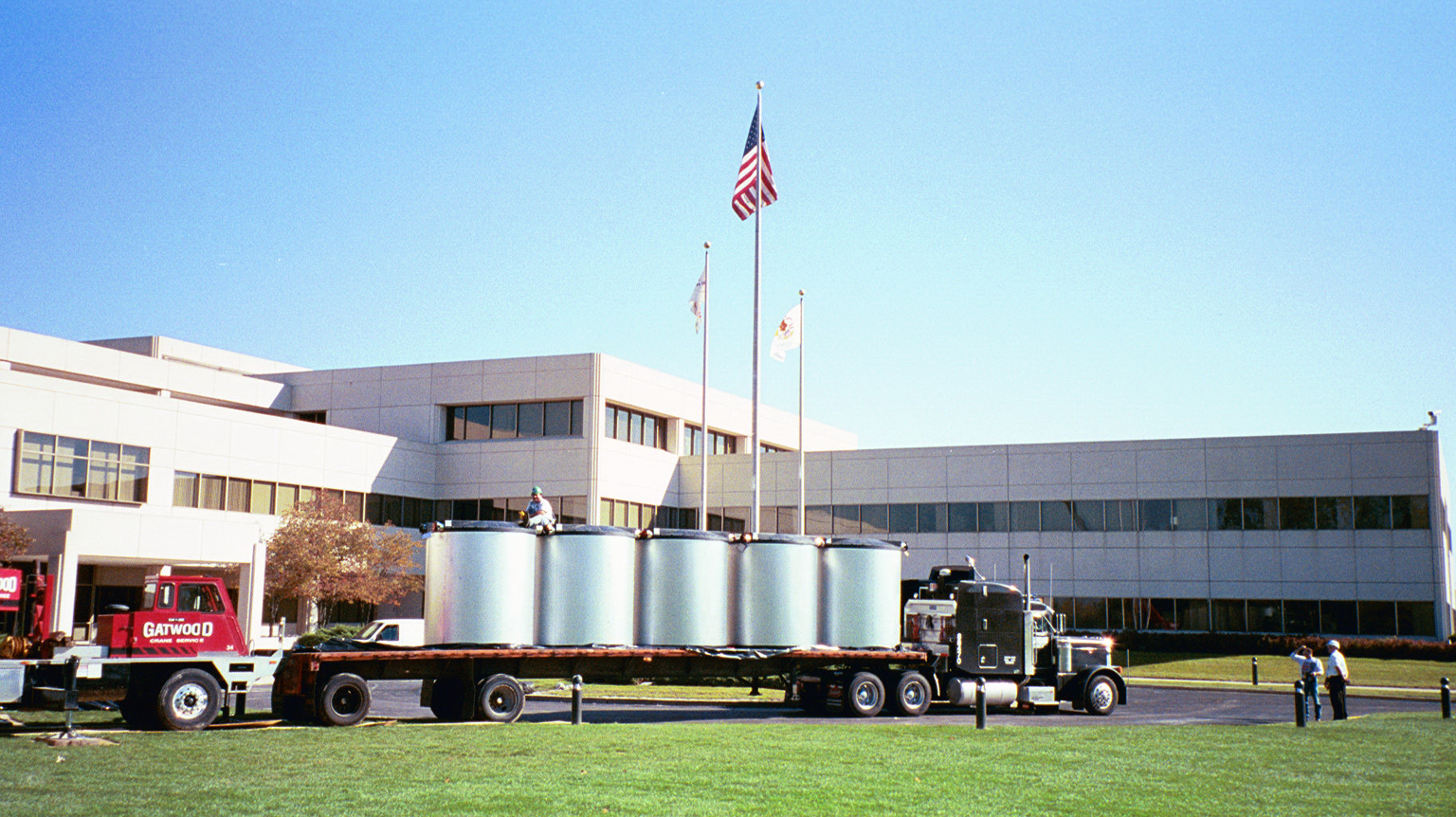 Project Facts
Retrofit
First project with C model IceBank tanks
52% operating cost savings
8,000 ton-hours
Installed in just three days
OVERVIEW
Few terms impart as much confidence as "UL Listed." Thus, when Underwriters Laboratory chooses a product or a process for its own use, that's a truly noteworthy testimonial.
Underwriters Laboratories Inc. (UL) is an independent, not-for-profit product-safety testing and certification organization, headquartered in Northbrook, IL. Since it's founding in 1894, UL has been recognized as the undisputed leader in product-safety testing and certification within the United States. Building on its household name in the US, Underwriters Laboratories is fast becoming one of the world's most recognized, reputable conformity assessment providers. Once known exclusively for electrical device safety certification, today, UL services extend to helping companies achieve global acceptance for a host of categories that range from a programmable system to an organization's quality process.
"Overall, the new system reduced operating cost from $0.14 to $0.066 per Ton", a 52% savings according to Volker Kotscha, UL's Director Of Facilities Operation.
Each year, in as many as 100 countries, more than 17 billion UL Marks appear on goods produced by nearly 65,000 manufacturers throughout the world. In 2001, UL conducted 108,296 product evaluations using 840 UL developed standards.
CHALLENGE

UL took a close look at it's cooling system in 1995 and found that it was in relatively good shape for its age and keeping up with internal expansion. By 2000, though, signs of increased operating cost and capacity shortages started to appear. Four of its six chillers had exceeded ASHRAE life expectancy and their thermal storage system was approaching 20 years of age. The time was right to replace the entire system if it could be done with minimal interruption to the daily operation.
SOLUTION
UL commissioned the engineering firm of Sebesta Blomberg & Bourassa (SBB) to design a system that was flexible, efficient, easy to operate and maintain with room for expansion. It also had to be affordable and last 25 years. Once that was done, UL then said "Install it without shutting down our facility".

"UL serves its customers year round and the workdays were becoming longer and longer to accommodate International customers until it seemed like we were operating around the clock", according to UL's Engineering Group Leader Fred Salzman. "There's no such thing as downtime and still meeting our customers needs". This type of operation dictated that cooling had to be available early in the year and SBB had from November through March to install the new system.
RESULTS
UL wanted thermal storage for the energy efficiency and operating flexibility it provided and asked SBB to include Off Peak Cooling. SBB designed 8,000 Ton Hours into the new system with two screw chillers that could make ice, chilled water or both at the same time using low cost off peak energy at night.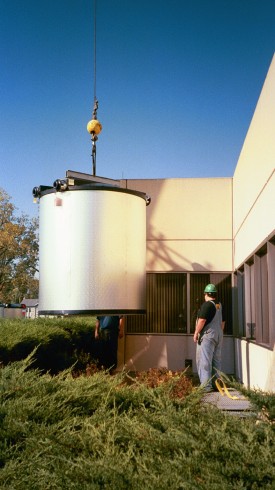 Ice storage cooling allowed UL to drop 400 to 800 HP every day from its daytime cooling demand when energy is most expensive. "Overall, the new system reduced operating cost from $0.14 to $0.066 per Ton", a 52% savings according to Volker Kotscha, UL's Director Of Facilities Operation.

Another building houses two 800 Ton chillers to cool the facility during ice production and adds flexibility and redundancy to the system. "We can cool the entire facility with ice for a minimum of six hours to take advantage of any energy curtailment incentive windows offered by the local utility", said Kotscha. "And we can produce 8,000 Tons of ice in six hours to take advantage of nighttime energy incentives starting to appear in the market."

The CALMAC Ice Storage System consists of 50 Model 1190C tanks for a total of 8,000 Ton hours. This was the optimum size to complement mechanical cooling and just happened to fit into the available space. The modular design allowed individual tanks to be lowered into an existing area well and slide into the basement, eliminating costly building modifications to bring the tanks down main hallways. Fifty tanks were set and temporarily bolted together in three days. Not bad considering they're 7-1/2' in diameter, 8-1/2' tall and weigh 2,000 pounds empty.
SUMMARY
Sebesta Blomberg & Bourassa completed installation of the CALMAC system on schedule and made ice the first time the equipment was started. UL had a fully charged thermal storage system within days and was able to experiment with the system early and often to significantly shorten the learning curve. "This really helped the project to finish on time and allowed UL to realize energy savings from day one", says UL's Samuel McCoy, Facilities Technician.

Sebesta Blomberg & Bourassa estimates UL will save 10 to 11 million dollars in operating cost over the next 25 years and help the environment at the same time. Every bit of energy that can be removed from the utility company during the day improves the efficiency of power generating plants and reduces greenhouse gasses and other harmful emissions into the atmosphere. UL is making the world a safer place in more than one way.


< Back