CALMAC manufactures both IceMat I and II skating rinks to cater to all types of applications. Both IceMats minimize the time and labor out of rink set-up, create uniform ice temperatures in varied weather conditions and are easily portable.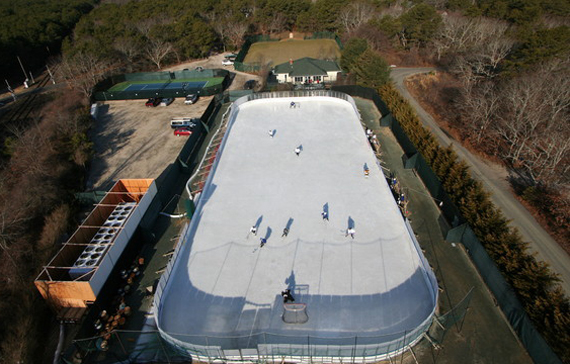 ICEMAT II
To decrease installation time and the leak-free circulation of coolant to and from the refrigeration unit (chiller), factory-installed main headers, not sub-headers like competing IceRink systems, allow each mat header to simply interconnect to others using quick-connect clamps.

Fast installation in concrete or sand.

Automated machine production installs spacer strips to pre-space each set of mat tubes and elevate the tubes uniformly to a perfect height for perfect ice.
PRODUCT MATERIALS

Pre-installed main headers (typical size 6") made from Schedule 80 PVC pipe

Fitting rings and clamps made out of 316 (stainless steel) to prevent corrosion

U-Bends are made out of copper (or stainless steel for permanent concrete installations)

Sturdy polyethylene tubing made from higher-pressure, medium-density material and available with UV compounds for lasting protection