Chabot-Las Positas Community College- LEED Platinum
Faced with spiraling energy costs, mechanical systems that were outdated and acoustical concerns, the college was looking for afforadable sustainable solutions.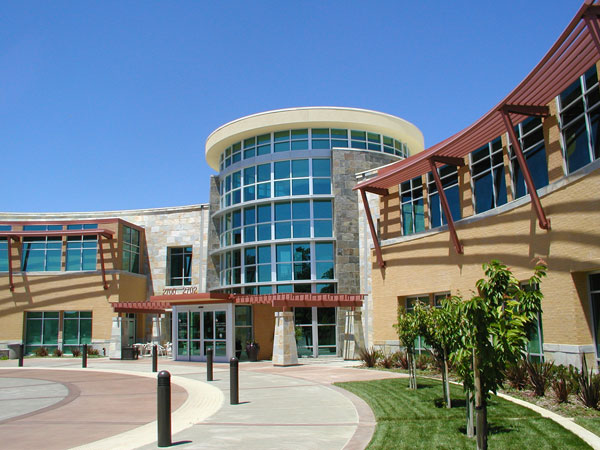 Project Facts
LEED Platinum
24,500 students and more than 2,000 administrators, faculty and staff
Saved more than $200,000 per year in energy costs
Reduced demand by 1.1 MW.
OVERVIEW
Founded in 1961, the Chabot-Las Positas Community College District (CLPCCD) serves California's San Francisco Bay Area with two colleges: Chabot College in Hayward and Las Positas College in Livermore. The school district serves 24,500 students and employs more than 2,000 administrators, faculty and staff.
CHALLENGE
Faced with spiraling energy costs and mechanical systems that were outdated, the school was looking for a way to reduce its power usage, greenhouse gas emissions and cooling costs in an affordable manner. To do so, the CLPCCD decided to adopt aggressive sustainability guidelines, and to focus on establishing high-performance buildings for the campus by designing all of their buildings to meet LEED certification or higher.
"Energy storage offered a solution to our school district's operating and energy woes," said Jeff Kingston, vice chancellor of the CLPCCD. "CALMAC's IceBank tanks have allowed us to reduce our peak-demand, energy consumption, carbon footprint and our operating costs. It's been a great addition to campus."
SOLUTION
The school district retained Southland Industries, a Long Beach-based construction firm, to design and build central heating and cooling plants for the college campuses. To help the CLPCCD achieve its sustainability goals, Southland Industries incorporated CALMAC's distributed energy storage technology. CALMAC IceBank® tanks were chosen for their unique modularity, which makes it very fast to install and allows for future expansion while providing system reliability.
The CLPCCD implemented two centralized heating/cooling systems that utilized a central chilled and hot water underground piping loop. Each site used high-efficiency hot water boilers, CALMAC's IceBank thermal energy storage tanks and high efficiency chillers from Trane. Southland Industries designed and built the system to provide reliable comfort and drastically reduce peak demand energy consumption for the district. The CALMAC system creates ice at night, when generation of power is less expensive and renewable energy sources are most abundant. The ice is then used the next day to cool the building.
RESULTS
CALMAC's thermal energy storage tanks led to significant annual electricity cost savings and lower greenhouse gas emissions associated with peak demand avoidance. The tanks helped the district save more than $200,000 per year in energy costs and reduced the demand by 1.1 MW.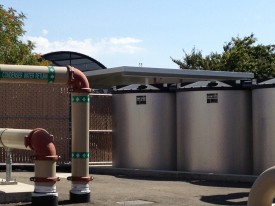 As an added benefit, the use of ice storage reduced acoustical issues associated with a central utility plant by allowing the chillers to shut off during certain times of the year. The option to use ice storage tanks required minimal use of parking spaces and less chiller equipment than otherwise needed thereby allowing the reusing of an existing building rather than the construction of a completely new central plant facility.
"Energy storage offered a solution to our school district's operating and energy woes," said Jeff Kingston, vice chancellor of the CLPCCD. "CALMAC's IceBank tanks have allowed us to reduce our peak-demand, energy consumption, carbon footprint and our operating costs. It's been a great addition to campus."
SUMMARY
Overall, CALMAC's energy storage tanks helped achieve the CLPCCD's sustainability goals and reinforced the district's commitment to reducing its carbon footprint. "Our nation's educational system is truly leading the charge to embrace green design and create a network of more sustainable and high performance buildings," said Mark MacCracken, CEO of CALMAC. "We are happy to play our part in this great undertaking and I hope other industries follow suit."

< Back