Geothermal initiatives leading new energy options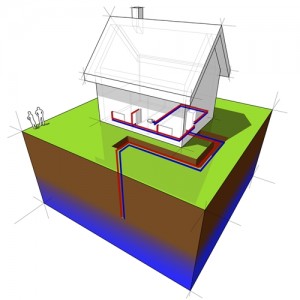 May 5, 2014
Geothermal energy solutions are helping businesses, schools and homeowners alike increase their green initiatives and improve their financial positions. This is accomplished through providing thermal energy harvested directly from underground sources of heat or cold that can be pulled from the earth and stored for future use.
Reaping the benefits
The rise in geothermal energy popularity comes from the year-round benefits these systems offer. According to the Mohave Daily News, geothermal energy offers a huge amount of benefits for homeowners in terms of generating a reliable, clean and efficient source of power no matter the month or outdoor weather. The source indicated that the U.S. Department of Energy called geothermal systems as the most efficient heating-cooling system of all.
This type of renewable energy helps those who use it cut their energy bills by as much as 70 percent. The geothermal system runs efficiently and silently, making it ideal for home, school and office environments alike. This energy option runs smoothly in the background without people having to worry about needing resources at the present or in the future, as these utility options make sure that energy storage solutions are always available to harness. Having reliable energy sources is possible because the temperature of the earth at 4 to 6 feet below ground remains relatively constant no matter the time of year.
Learning about energy
These capabilities make geothermal energy an ideal option for homes, businesses and even schools, as a recent report from The Bend Bulletin showed. The source reported that, the Oregon Institute of Technology recent rolled out of a new 1.75-megawatt geothermal power plant brought U.S. Department of Energy closer to the Administration's goal of doubling renewable energy for a second time by 2020. The new power plant along with 2MW of solar energy allows for creating most of the school's energy needs.
The DoE supplied $4.5 million to the school to help create the geothermal plant, with the total value of the plant being pegged at $14.7 million. Its 1.75-megawatt load is being added to another nearby geothermal plant that puts out 280 kilowatts. This will help save the schools up to $400,000 every year and save more than 3,100 tons of carbon dioxide.
Not only does geothermal energy help schools save money, but there's also the added benefit of teaching students about how green power works and why geothermal is best.
Geothermal and ice storage
Over in Denver, IKEA, the Swedish home furnishings retailer, has teamed with the U.S. Department of Energy's National Renewable Energy Laboratory to showcase and study the advantages of a geothermal heating and cooling system. 130 holes 500 feet deep and a maze of hose below the store carry all the underground cooling. Temperatures remain about 55 degress all year round. Still, even with all that underground cooling an extra chiller is needed. An ice-storage system will provide additional cooling during the warmest days of summer.
< Back